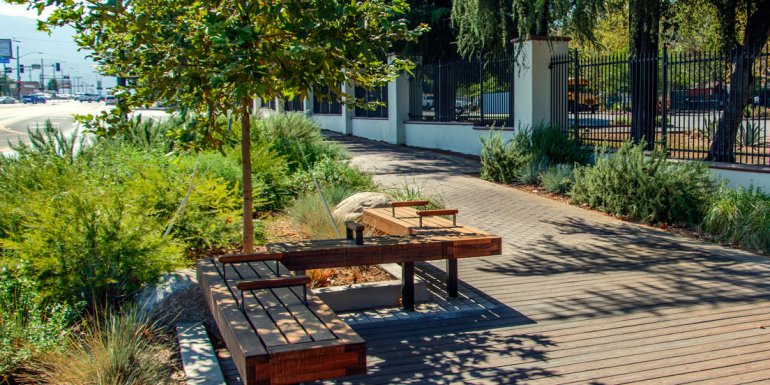 Vectorworks Landmark is the software of choice for landscape architects, urban planners, landscape designers and design/build landscape contractors.
Q Can I work with small and large scale projects in Landmark?
A Yes. Work on any size project in 2D or 3D. Design whatever you can dream up. With the Vectorworks Landmark application, you're not limited by the software. The possibilities are wide open. Work on any type of project with a flexible design environment. Design residential plans at 1/4-inch scale up to urban plans at 1:1,000 or larger. The elegant design tools easily scale up or down to accommodate your work.
Q Can I work in 2D and 3D?
A Sketch out your concepts, create illustrative master plans, and produce precise construction drawings. The sophisticated 2D drafting tools and unique 3D presentation capabilities of the Vectorworks Landmark program make it easy.
Q Can I model my ideas and manipulate them in Landmark?
A Whether you're working in 2D or 3D, the unified view mode lets you draft or model within a unified coordinate system. Intelligent objects display correctly in both views. With our intuitive interface, you design from any 3D view using modes in modeling tools that automatically infer working planes as you move your cursor, and enjoy the superior quality that allows you to manipulate your model with ease. More accurate object information and better snapping make drawing in 3D so easy. The SmartCursor™ helps you by showing hints, like the angle from the previous segment, as you draw. Plus, an advanced suite of solid and NURBS modeling tools allows you to create any freeform shape and easily explore organic geometry. Push, pull, blend, twist, sculpt, deform, or punch holes. Create stunning 3D renderings and even animated flyover and walk-through movies.
Q Can I bring other design elements in to my designs?
A Bring your ideas to life. The Vectorworks Landmark program goes beyond planting plans. You can design anything—graphics, ornamentation, hardware, furniture, decking, urban master plans, or whatever you can imagine—without having to learn or use additional applications.
Q Can I work with a wide range of designers & contractors?
A Yes. Vectorworks will import and export a wide range of file formats. Specifically DXF, DWG, Shape files, Google Images and PDFs. In the case of PDFs it allows you to use the snap points on the PDFs that you import.
Q What is the relevance of shape files?
A Councils store all their data in shape files – many of these are in the public domain and can provide valuable information on building footprints, services and even building heights.
Q How many plants in the NZ Plant database and can I add data?
A There are in excess of 2200 plants including all the common New Zealand natives. You can add both data and images. We've included nearly 1 Gb of photographic images already and you can easily add your own.
Q Can I take a picture of a tree or other object and use it in Vectorworks?
A Yes – this is called an image prop.
Q Is there support and training available in New Zealand?
A We have a great range of resources available throughout New Zealand and the Pacific Islands, to ensure you realise your time and money investment in Vectorworks. You can have help available when you need it and you don't pay for training or support you don't use. Learn more from our web site or contact us.
Q How much is Vectorworks?
A Vectorworks is a smart investment. It's great value for money, affordable, customer-focused, and proven as the tool of choice for 500,000 designers worldwide—Vectorworks software is a smart investment in you. There is a range of products and services available to meet your needs. To ensure you have the right tools for your design requirements, please contact us for a personal consultation and quote.