Cinema 4D is a stand-alone rendering application used to produce high quality still images and animated movies. The software is used by advertising, architectural and film professionals to produce stunning graphics, rendering, texturing and animations.
There is a direct export available from Vectorworks to Cinema 4D, meaning any lighting or textures used are carried through – streamlining workflow. Release 19 now available in New Zealand from Sept 1, 2017.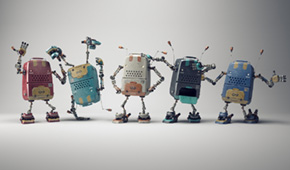 Auckland designer Richard Nosworthy created this Robot Gang for the 99 Frames project, a fun way to create a movie in Cinema 4D, in no more than 99 Frames.
Cinema 4D is such a diverse resource, what you see in this reel is a brief snapshot of what you can create with Cinema 4D. You're only limited by your imagination. Check out this R19 news reel!
Josh Doubleday was awarded the 2015 Cinema 4D Award for Excellence in Digital Design at the Christchurch Polytechnic Institute of Technology (CPIT).
One of the most powerful features in Cinema 4D is the ability to manage and share the rendering across multiple machines on your network, thus creating your own in-house 'render farm'.
While the CineRender Engine is now embedded in Vectorworks, Cinema 4D is a stand-alone programme with the capability to provide full modelling and enhanced graphics of the highest quality.
Experience the amazing capability of Cinema 4D in these Formula One Red Bull videos:
http://www.aixsponza.com/projects/spielberg/
http://www.aixsponza.com/projects/redbull-transforming-formula-1/