Cinema 4D brings Vectorworks designs alive. It is the easiest-to-use 3D rendering software in the world and creates stunning, photo-realistic images that convey concepts accurately.
The connectivity between Vectorworks and Cinema 4D opens a wealth of new possibilities for adding life to architectural CAD drawings, enabling designers to better communicate their visions.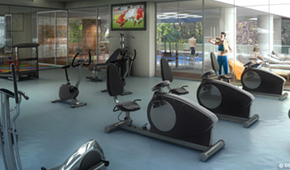 A great image created in Vectorworks and Cinema 4D is one where you have to ask yourself…is this a photo or a computer generated image? Can you tell if this gym is a photo or computer created image?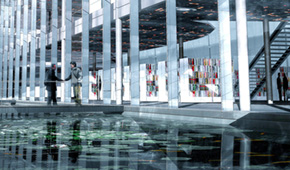 Imagery awakens our senses and we're inspired by it. Is this a photo or a computer generated image? Is the water inviting? Can you tell if this gym is a photo or computer created image?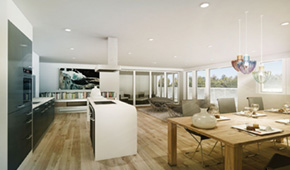 If you're designing kitchens, is this what you're able to show your clients what it will be like when it's finished? If not, you need to contact the Megabits team to upskill with the right tools.
Q How good is the quality of Cinema 4D's renders?
A. Cinema 4D's Physical Renderer is the most important supplement to Vectorworks. It renders photo-realistic images, producing a highly accurate emulation of physical optic characteristics. With the new Radiosity maps, interior spaces can also be rendered faster with better quality.
Cinema 4D's camera matching system makes it easy to show architectural projects in the surroundings they will be built. The position of virtual objects can be adapted to the angle of view, perspective and vanishing point of real-world photos. HDRI images can be used to influence the scene's lighting and rendered result – virtual and real-world objects will be rendered ultra-realistically side-by-side.
Even if the illumination is created without HDRI, Cinema 4D's comprehensive toolset makes it easy to create the right mood: six different light types let any lighting situation or mood be created for great-looking rendering.
Q Can I add materials and layers using Cinema 4D?
A. Cinema 4D's materials system is the perfect supplement for adding photo-realism to Vectorworks projects. The right materials give surfaces the required realistic look.
Materials can be positioned accurately and procedural shaders create brick or wood surfaces. The programme has tools that can place materials on specific regions of a given surface or define where certain texture elements should appear.
Another powerful tool is the Layer Shader, which makes it possible to 'stack' materials like Photoshop layers and arrange them as desired. This offers endless possibilities for combining different layers.
Cinema 4D also offers Normal and Displacement shaders. Vectorworks uses bump maps to simulate rough or uneven surfaces. Cinema 4D has Normal maps, which takes it to the next level. When viewed from an angle, bump maps lose their bumpy effect but Normal maps can be viewed and rendered from any angle and the surface deformation remains convincing.
Normal maps only simulate surface deformation but Displacement maps go even further and deform the geometry without actually modifying it in the Viewport. The deformations are created by a special bump map in the Displacement map, which deforms the geometry when it's rendered with no additional modelling required.
Q Can I add landscaping elements in Cinema 4D?
A. Showing final architectural models in a real-world environment adds life to the structure, and landscaping adds realism. Cinema 4D Visualize offers a comprehensive library including plants, trees and people. For interior renderings, the library offers furnishings that add life and character to empty rooms. The wide range of outdoor plants and greenery make it possible to quickly and easily create and render a wide variety of landscaped environments.
This Cinema 4D Visualize object library can be found in the application's Content Browser, which also contains other assets that can be dragged and dropped into any scene, whether it's a landscape, interior space, street scene or cityscape – everywhere where plants, furnishings, people, vehicles, buildings or everyday objects and textures are needed. Lighting setups and virtual studio setups are also included and make it possible to quickly enhance an existing scene or assist in the creation of a new scene.
Q How does Cinema 4D's modelling system work?
Cinema 4D has an expansive modelling toolset. It can be used to bend, twist or otherwise modify modelled elements. Cinema 4D has several tools that can be applied to Vectorworks objects to create free-form objects such as wavy roofs or façade elements.

Q Can I get support and training for Cinema 4D in New Zealand?
A. Megabits offers a comprehensive range of training resources. These are available throughout New Zealand and the Pacific Islands to ensure you maximise your investment.
Help is available when you need it and you don't pay for training or support you don't use. Learn more about our support and training resources.
Q How much does Cinema4D cost?
A. To ensure you have the right tools for your design requirements, Megabits will provide a customised quote for your business. Contact us to book a consultation.