Vectorworks Spotlight is the world's leading lighting design software for entertainment design.
It creates light plots, automates paperwork and visualises your design in rendered 3D views. For high-end lighting simulation, you can move your models seamlessly to Vision to cue and programme your show. You can also import and export a wide range of file formats, allowing you to work seamlessly with other disciplines.
Michael Klaers from Santa Barbara, California, highlights the planning process he uses for theatre design.
Rock in Rio highlights how the lighting designers took advantage of the Vision Studio, a previsualization suite set up by PRG, where designers could program their shows before the artists hit the stage, ensuring days of seamless shows for the expectant crowds.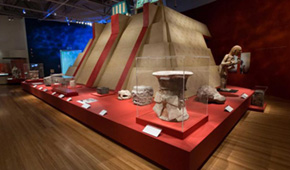 Designers at the Museum of New Zealand Te Papa Tongarewa, in Wellington, have used Vectorworks for all aspects of design for their exhibits since before the museum opened in 1998.
Vectorworks Spotlight doesn't limit you to a certain workflow, so you have the freedom to work on any size or type of project. That makes Vectorworks Spotlight the software of choice for theatre, scenic and lighting design, museum displays, live entertainment and event production.
Q How is Vectorworks Spotlight useful for Exhibits, Productions, and Events?
A. Vectorworks Spotlight is the perfect tool for both large and small events. You can easily import venues or build them using the software's easy-to-master tools and pre-drawn resources. With the cutting-edge event-planning suite, you can quickly create the room, stage, steps, lectern, video screens and seating. You can also create standard views to show the client and generate reports for the total number of tables and chairs in your room.
Q Can you import from Sketchup® and Google?
A. Yes. You can import concept models from SketchUp® and access thousands of models from Google's 3DWarehouse.
Q Can you import digital images?
A. You can quickly and easily import scans, digital photos, or web images. You can also import or export a wide array of image files, including Illustrator® EPS and native Photoshop® PSD files. It's also easy to export your design for inclusion in marketing materials.
Q Can I work in 2D & 3D?
A. Absolutely! Draw in 2D and see it in 3D. The Vectorworks Spotlight application supports standard 3D file formats, including 3DS, Parasolid X_T, KML, STL, SAT, and IGS. You can import third-party models into Vectorworks Spotlight or export designs to other 3D applications.
Q Can I receive plans for a venue and work with it in Vectorworks Spotlight?
A. Yes. You can import a 2D plan (such as DXF or PDF) and quickly create a full 3D model of your design on that plan.
Q Are there in-built lighting libraries?
A. Yes. Selecon Lighting (widely used in NZ) is included, and many more are available in the VSS libraries. You can also download symbols directly from manufacturers' sites into your own personal libraries
Q Can I create schedules in Vectorworks Spotlight?
A. Yes – Vectorworks Spotlight will quickly create light plots and automate paperwork.
Q Does Vectorworks Spotlight have LED screens?
A. Yes. LED screens are included.
Q Does Vectorworks Spotlight include any audio equipment?
A. Yes. Speakers are included.
Q Is Vectorworks Spotlight suitable for exhibition design?
A. Yes. The 3D modelling is perfect for exhibition design, especially when combined with NURBS modelling and Renderworks' photorealistic rendering.
Q Can I get support and training for Vectorworks Spotlight in New Zealand?
A. Megabits offers a comprehensive range of training resources. These are available throughout New Zealand and the Pacific Islands to ensure you maximise your investment in Vectorworks.
Help is available when you need it and you don't pay for training or support you don't use. Learn more about our support and training resources.
Q Can I Render in Vectorworks Spotlight?
A. All Vectorworks software packages include Renderworks, the best-in-industry rendering feature set built on the award-winning Cinema 4D render engine. Renderworks provides the tools necessary to visualize your work throughout the design process while producing clear and accurate illustrations. Are you presenting your designs in the best possible way? Learn how here
Q How much does Vectorworks Spotlight cost?
A. To ensure you have the right tools for your design requirements, Megabits will provide a customised quote for your business. Contact us to book a consultation.